Our IT services go above
and beyond
At KJ, we're dedicated to being the very best in IT support and services local to the New York area. But we don't believe in just doing the occasional support project here and there. We like to think bigger.
That's why we built a company centered around going above and beyond for our clients. That means having frank conversations, making strategic IT and business decisions, and becoming lasting partners over the years. We grow as you do, earning our spot at the table alongside you. Here's how we do it.
High-level IT Planning
Cybersecurity services
Business continuity solutions
Strategic cloud migrations
Compliance
Cryptocurrency protection
Cloud computing services
IT infrastructure management
Onsite IT support
24/7 helpdesk and training
We hold ourselves to the highest standards of accountability. We don't hide behind fancy jargon or technospeak. We get the technology and turn it into plain English so that we're always on the same page.
When we say we're strategic business partners, we mean it. We have a platform to deliver unbiased IT support and advice. We tell it like it is so that we can help you build a better business at the end of the day.
For us, it always starts with a question. Our entire corporate culture is built around an intense curiosity to learn, dream and innovate. That's what ultimately enables us to provide value for each of our clients.
We don't recommend or implement technology for the sake of simply implementing technology. We provide your business with the right IT support and solutions that address actual needs. Period.
Meet the team
that drives
the vision
×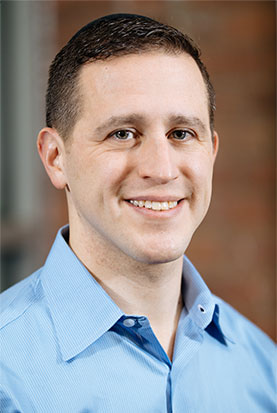 Jon Cohen
Founder & Principal
My fascination with technology began in high school. I remember working on early Windows operating systems and exploring what computers could do. When I left for college, I set my sights on studying IT, even working in the field over the summers.
I attended Boston University, initially as an Engineering major. During a lecture in my Management Information Systems(MIS) class, my professor said something that has stuck with me to this day: There's no shortage of bright people working in technology and plenty of talented people working in management. If you aspire to set yourself apart in the technology field, you must not only master the technology but bridge the gap and serve the people while focusing on the business drivers as well. This was a transformative moment for me. As I looked around the room, I could see that this resonated with me more than the other MIS students. I completed my studies with a degree in management and a concentration in finance.
Fresh out of college, I started looking for a job with an IT slant, which is when I ran into Mordy. He was a manager at an IT consulting firm at the time and quickly recognized how my approach differed from the others. He offered me a job and ultimately took me under his wing.
Over the next two years, we began to realize how our desires to serve people through technology were closely aligned. Believing we could be better advocates for our clients, we began to dream about what would later become KJ Technology.
Nearly two decades later, we're still holding true to our values that have launched our firm, while looking to the exciting future ahead.
Outside of work, I enjoy staying active with my wife (my high school sweetheart) and our 5 children. You can often find us skating, skiing, swimming, kayaking, hiking or just watching the NY Islanders. I have also completed a couple of half marathons, while raising money for charity. Most of these activities are often followed by a BBQ, no matter the season!
×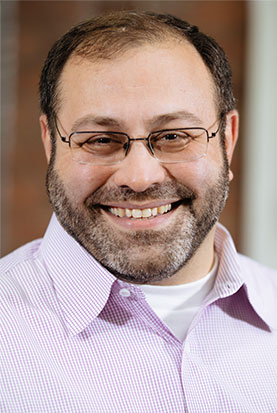 Mordy Hackel
Founder & Principal
I've always loved science and technology. One of my earliest memories is visiting a computer lab at a world-renowned science research facility, where I was mesmerized by the endless blinking of green- and amber-screened terminals.
As I grew older, I also became fascinated by business and entrepreneurship. At Yeshiva University, I studied economics, learned about forces of business, banking and finance, worked on a $250,000 10-day book sale and developed lasting relationships.
After graduation, I started a professional career on Wall Street. While working in the securities industry, I acquired the FINRA Series 7 and NY State Series 63 professional certifications. This securities industry knowledge still proves helpful, especially when working with regulatory compliance clients.
I left Wall Street, to join a startup specializing in game design. I was to develop a digital strategy for Windows just as it was emerging as the dominant computing platform. Sadly the business closed, though in the process I learned many valuable lessons.
My next opportunity was as an IT consultant at TELAS Computer Systems. Providing IT support to Sony Music, Universal Music & Pictures and Citibank provided excellent learning opportunities. While working with the NBA, my team worked closely with NBA management to redesign their IT customer support experience.
Around that time, I became General Manager at TELAS. In that position, I hired Jon, a fortuitous move in hindsight, since he would later become my business partner.
The entrepreneurship bug struck again in 1998, and so KJ became a reality. Over the last 19 years, we've grown personally and professionally.
We've developed a dynamic cybersecurity practice with an expertise in the relationship between technology and compliance. Most recently, we've designed and implemented infrastructure solutions for blockchain and digital currency companies.
It is our core belief that we are a customer service company first and that our equally relentless pursuit of adding value continues to distinguish our firm in the industry.
When I'm not at KJ, I enjoy spending time with my family, reading, studying classic Japanese Karate and watching the NY Football Giants.
×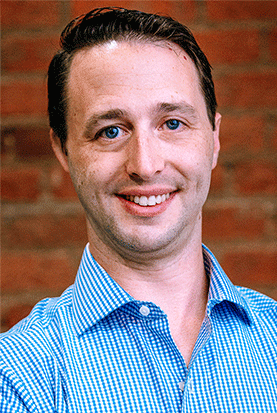 Jeffrey Cohen
Jeff has been an instrumental part of KJ Technology since 2003. Having joined the team as a desktop engineer, he's worked his way through the ranks and now manages the Customer Response Center.
Over the course of his career with KJ, Jeff has been a key player in many corporate build-outs, custom network installations and creative service requests. Some of Jeff's memorable moments from his earlier years include designing multi-layer and internet redundant networks, developing innovative, continuous backup solutions and identifying unique workarounds to restore business functions when needed.
Jeff believes that each KJ client should receive his undivided attention and should be made to feel as though they are the only KJ client. In his role of client services manager, Jeff enjoys the opportunities to both engage with many clients and to mentor the team to develop each engineer's unique troubleshooting skill set. Jeff is often found right in the center of KJ's office and maintains a strict open-door policy in his cubicle.
Fun fact: Jeff began engaging with technology at an early age. Now a father of four, Jeff encourages his children to play with technology and learn to code through Scratch and other online tools.
×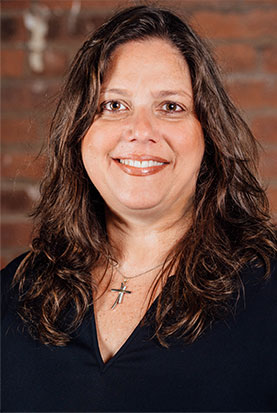 Maria Yarris
Maria joined KJ in 2008 as an operations manager. She brought with her 15 years of administration experience in the technology industry.
She started her career working in a custom software department of a mid-sized technology company focused on automated time and attendance systems. The turning point of her career came several years later when she was offered a position working with a publically traded, multi-national company managing the administrative operations of the New York and New Jersey offices.
KJ is the third company where Maria has had the opportunity to team up with Adam. She loves that KJ is fully committed to doing the right thing for the customers and the employees. She appreciates that employees are positioned to work within the area they show strength, while still being challenged outside of their comfort zone to ensure personal growth.
Maria's favorite parts of her job are being able to set up and streamline processes and finding solutions to increase productivity with KJ's back office procedures.
Fun fact: Maria is an avid skier.
×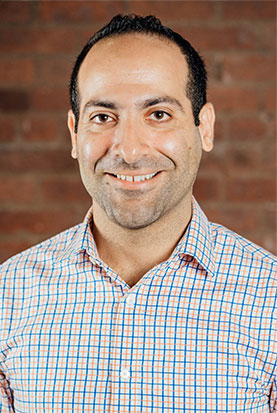 Ron Weinwurzel
Since 2005, Ron has contributed to nearly every department of the firm, from server and network infrastructure rollouts to internal process development, key account technology, and project management. One of his most notable achievements with KJ has been the design and build-out of a multi-location, scalable Cisco enterprise network for one of the fastest-growing online fashion retailers in the US.
Ron has also played a key role in improving KJ's service delivery with greater efficiency and consistency. In an environment where relationships and customer experiences are key to success, Ron has earned a reputation among KJ's clientele as a reliable and trusted advisor.
Fun fact: Ron enjoys spending quality time with his toddler son, Benjamin, and watching the Yankees on the way to their next World Series.
×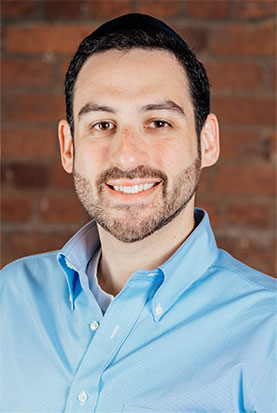 Seth Bekritsky
As a child, Seth's father purchased a computer for word processing. Seth had no interest in writing anything but was fascinated with the "magic box." He remembers typing into it just to see what it would do and has been hooked ever since.
Seth graduated college with a BS in Management Information Systems and worked at a law firm in their IT department for seven years as a systems administrator.
He joined KJ in 2008 as an IT engineer. Over the years, his role has shifted to focus more on IT consulting. He now serves as KJ's virtual CIO and is responsible for meeting with clients regularly to ensure their technology strategies and services remain effective. He also works in close collaboration with our internal team to make sure that business best practices are being applied to each client's processes.
He loves generating new ideas and solutions for his team. One of the accomplishments he's most proud of is designing a business continuity solution that was ahead its time.
Fun fact: Seth enjoys magic, having fun and playing pranks. He is a father of four and loves giving back to the community.
×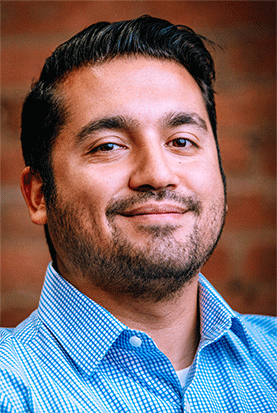 Juancarlos Aponte
Juancarlos joined the IT industry because of the influence of his father and constantly being around computers as a child. The first computer he remembers using was a Radio Shack Tandy. He helped build his first computer before his 10th birthday and never looked back.
He started working in IT during his college years at the University of North Carolina, mainly in the help desk field. From there, he continued working in help desk at the UNC Press before moving up to a systems administration role.
His career took an exciting turn when he moved back to New York and joined a small IT provider. Juancarlos left that company to join KJ Technology where he has continued working on networks as well as a wide array of new and exciting technologies.
Juancarlos loves working at KJ because he's surrounded by intelligent, methodical teammates who all work incredibly well together. As the central services engineer at KJ, he can keep an eye on all clients and ensure that all the systems are operating at optimal levels.
Fun fact: Juancarlos has ridden 216 roller coasters.
×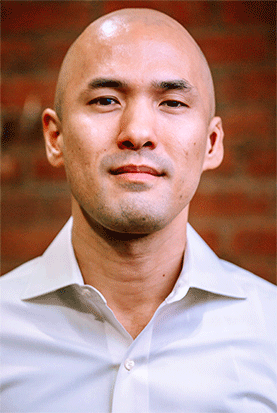 Franz J. Logarta
Franz discovered KJ in 2010 while working at a corporate IT firm. He knew nothing about the way managed services providers operate, but when he got a call from Adam, he took the opportunity.
When Franz was at KJ, he completed his undergraduate degree in finance with minors in computer science and economics.
His primary role is providing clients with exceptional remote and onsite IT support. His favorite part about working with KJ is the fact that he gets to share his knowledge with clients across a variety of industries.
Franz enjoys the challenges of solving complex issues he's never encountered before and helping technology-averse clients become more comfortable with their systems.
Fun fact: He is an avid CrossFitter.
×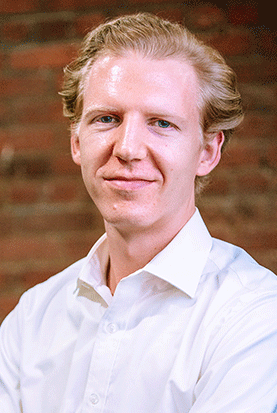 Andrew Krason
Andrew has always loved technology. So when he joined KJ Technology in 2018 as the IT Administrative Coordinator, it was the perfect fit. This interest in technology, along with his background in administration, has quickly made him an integral part of the team. He's taken on whatever's been asked of him, performing everything from administrative duties to executive assistant tasks.
His favorite part of the job is supporting the KJ team in their effort to provide efficient, meaningful technical support to customers. Like KJ Technology, Andrew holds himself and his coworkers to the highest standards and enjoys the values the company embodies.
When he's not providing support to the team, he can be found traveling. His most frequent trips are to Europe, specifically Norway where he still has family. When he's at home, he enjoys cooking simple but exotic dishes with fresh ingredients. He's an avid runner and dreams of one day training for a marathon.
×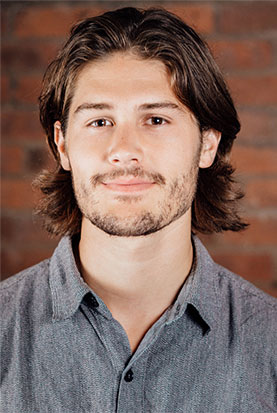 Joseph Wilson
Joe started off his IT career at a very young age. He was exposed to different kinds of technology as a kid thanks to his father, who has been in the IT industry for years.
He studied Information Technology at Lehman College. Joe gained valuable experience as an intern at an MSP during his time as a student.
Joe found KJ through a recruitment agency. After speaking to Adam and Mordy, he knew that it would be a great fit for him. Working with KJ gives Joe the chance to work in a skilled team with individuals that motivate him to learn and grow.
To this day, he continues to work hard and absorb knowledge. He wants to broaden his technical skills and make an impact with the growing IT industry.
Fun fact: Joe loves travelling. He's an avid sports fan and loves to skateboard, snowboard, and surf in his free time.
×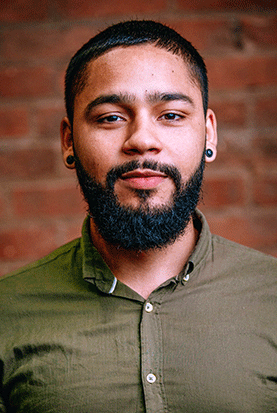 Edgar Cepin
Edgar has always had a love for IT. He's drawn to it by a natural curiosity of how devices work and what causes them to operate the way they do. It also helps that he's always been the IT person for friends and family.
That drew Edgar to believe that an IT career would be would be the best option for him.
Edgar is currently working on achieving more certifications to expand his knowledge in the IT field. He's specifically focusing on cybersecurity due to the evolving challenges around it.
He was introduced to KJ through a mutual contact. Edgar loves working with the KJ team – he likes to collaborate and pick up on different skills he learn from others. He firmly believes that there's something new to learn every day.
Fun fact: Edgar loves art, museums, and fashion. He's a big fan of Banksy, Basquiat, and Warhol.
×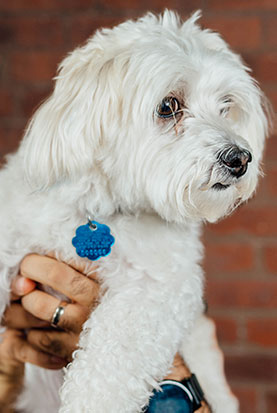 Conan
Director of Barketing
Conan is a board-certified "good boy".
He attended Harvard and currently holds a master's degree in Barketing, with a minor in Barkitechture (his side passion).
Conan sniffed his way into IT (and our hearts) some years ago, where his go-getter attitude and devil-may-care approach to pushing creative boundaries caught our attention.
When he's not boosting the morale of the rest of the team, Conan can be found napping on couches and generally being a good pup. Feel free to reach out to him and throw him a bone.
Fun fact: Conan has a vast collection of squeaky toys, each squeakier than the last.